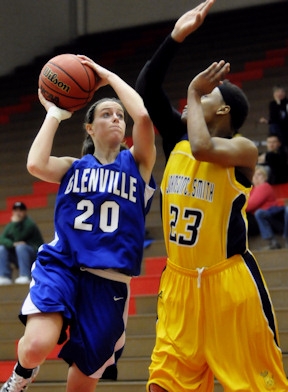 Catherine Butcher's jumper didn't make it
past the much taller LaQwesha Gamble Friday.
Facing five players in the six-feet or
better range stressed the Lady Pioneers game.
Story and Photos by Drew Moody
Glenville State College's Lady Pioneers and their coach, Bunky Harkleroad, had a great season that came to a close Friday afternoon with their defeat to Johnson C. Smith University 74-69.
Their overall record stands at 23-9, and the team is the reigning WVIAC Tournament Champions for 2011. All-in-all they were very successful at writing the script of their destiny for the 2010-11 season.
If I had a vote I give a nod to Coach Harkleroad for "Coach of the Year" for the overwhelmingly successful effort he's made in a very short two years. Both he and the team's effort bear witness to their dedication and fearless quest to be their best. Certainly the team and the coaching staff are among the best representation of excellence at Glenville State College.
However, Friday in wintery northern Pennsylvania just wasn't their day. The snow, ice and travel advisories matched Glenville's "ice-cold" shooting effort, hitting just over 35-percent of their field goal attempts.
JCSU didn't do any better but they typically had 3 to 5 attempts at a basket as their rebounding prowess made up for them not being able to hit the target either. They did move the ball well, spread out their offense and successfully press the Lady Pioneers.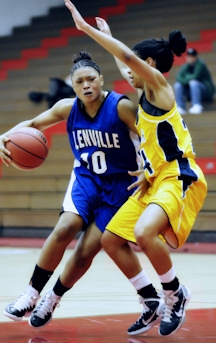 Kenyell Goodson is pushed and crowded by
her JCSU guard as she heads down the lane.
The Lady Golden Bulls controlled the court and the boards, and bullied the GSC women on-court as no other team had all year. In addition they capitalized on the fouls called against the Lady Pioneers hitting 21-of 30 free throws.
They were ready for Glenville's style of play and in some respects reversed the strategy to their advantage.
Initially the score was pretty even, and by halfway through the half the Lady Pioneers were up by five. JCSU tied the score at 23 with just under seven minutes remaining.
Following another tie at 28 GSC had a scoring drought lasting almost three minutes and wound up down 10, which was the deficit at the half 46-36.
Danielle Woodmore, Beth Deren and Kim Stephens hit a quick succession of triples and with nine minutes left in the game the Lady Pioneers had fought back to a tie at 57.
But while the scoreboard looked even, the play wasn't.. Glenville was off its game and they appeared overwhelmed at times making a series of bad passes, or taking ill-timed, rushed shots that went wild.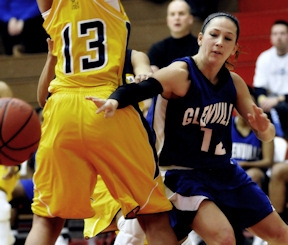 Miranda Reed rockets a pass across the lane
for one of her seven assists of the afternoon.
As an example of how "off" their game was, the top-scoring Division II team in the U.S., that averaged 96-points a game all season managed to score just nine points in the final 5:35 seconds.
To their credit, they didn't give up, they just looked lost.
They were up by one 64-63 with just over four minutes left, and JCSU sank a foul shot to tie it at 64.
Mishae Miles hit one of her patented inside shots and they were up by two near the three-minute mark.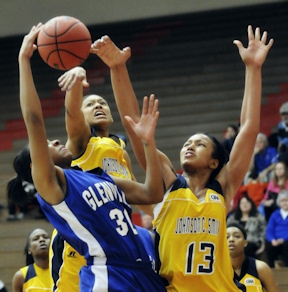 Johnson C. Smith University's defense smothers
Mishae Miles attempt at two under the basket.
The Lady Golden Bulls scored, then managed a critical steal as Glenville brought the ball down-court and scored. The Lady Pioneers were down 66-68 with just over two minutes left.
JCSU scored again giving them a four-point advantage with 1:25 sec. remaining.
Tenisha Wilson intercepted a pass with just under a minute, and took it all the way to the basket. She was fouled, basket was good and Wilson aced the foul shot.
The Lady Pioneers were down one with 25-seconds left.
Then down three after committing a loose-ball foul and JCSU hitting the one-and-one. The score stood at 69-72 with 17.9 seconds left.
They fumbled the ball, and threw it out-of-bounds missing the chance for a three-pointer to send the game into overtime. Another foul and successful one-and-one for JDSU put the score at 74-69.
Four GSC players scored in double-figures including Miles, Deren, Stephens, and Wilson. Mishae Miles ended the post-season play with another double-double grabbing 11-rebounds. Miranda Reed had seven assists.