A Clay County man was arrested Wednesday for violating his home confinement.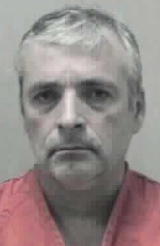 Brent Boggs, 52 (left) of Big Otter Highway near Ivydale, had been charged with a murder-for-hire scheme, and been released from Central Regional Jail on home confinement.
The criminal complaint against Boggs indicates he attempted to hire Cpl. L. J. Deskins and Cpl. B. L. Keefer of The WV State Police to kill his former business partner.
The complaint indicates Boggs gave the undercover officers a Pontiac Grand Prix for up front payment, and was to be given $5,000 when the job was finished.
Boggs, a one-time schoolteacher, has been engaged in several small businesses, including a car lot, rental property and selling Christmas trees.
See related story UPDATED: CLAY MAN TRIES TO HIRE STATE POLICEMEN TO KILL FORMER PARTNER