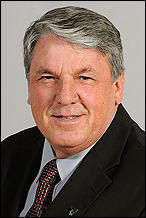 David Walker (D-Clay)
House of Delegates
WV Legislature-District 33
I'd like to start out this week by thanking the constituents who stopped by my office. I was fortunate enough to have had the opportunity to meet with 4-H members from Gilmer County.
Home-schooled students from my district also stopped by and expressed concerns about their program, talking with me about their personal experiences.
It is always a pleasure to receive visitors and I encourage any of my constituents who have concerns to feel free to stop by my office any time they are in the capitol this session.
In other news, this week I sponsored a resolution that passed through the House. The resolution would name the bridge over Elk River "The PFC Abraham G. Sams Memorial Bridge" to commemorate the life of a soldier who gave his in the Battle of the Bulge in WWII. Abraham Sams was also awarded the Purple Heart, which led to his death and so we honor him for that sacrifice.
The resolution will now be sent to the Senate for a vote.
This week the House also passed a bill that would establish the felony offense of causing serious bodily injury to another by a person who has injured the other while driving under the influence of alcohol, controlled substances or other drugs.
Though I support this bill and agree that those who commit this act should be charged with the felony offense, I must also express that I believe there should be harsher penalties for those who cause serious bodily injury while not under the influence. We must protect our citizen drivers and promote legislation that will make our highways a safer place.
As always, please feel free to contact me with any questions or comment that you feel need addressed. You can reach me by calling 304-340-3135, by e-mailing dwalker@mail.wvnet.edu or writing to my office address: Room 210W, Building 1, State Capitol Complex Charleston, W.Va. 25305.