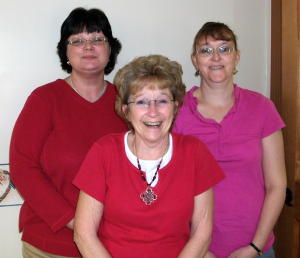 Pictured (L-R) Cindy Cottrell, Margaret Kirby, Anetia Wilson
Submitted by Maricia Mlynek
The Calhoun County Committee on Aging has recently received shining reviews in two of their departments.
The Food Establishment Inspection Report on January 6, for the CCCOA Nutrition Site, including kitchen and dining facilities, reported zero violations and scored 100%. This is a routine periodic food inspection performed by the Mid-Ohio Valley Health Department. The Nutrition Site is coordinated by Cindy Cottrell and operated by Ellen Shock (whom was on injury leave at the time of the evaluation), Anetia Wilson and Margaret Kirby. Also a valuable part of this team is Jim Hardman, a faithful volunteer.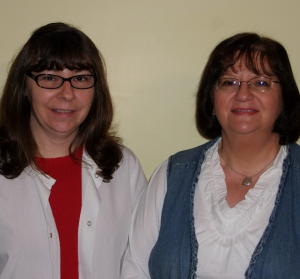 Pictured (L-R) Angie Yoak, Opal Harris
The other department to receive a perfect evaluation was the In-Home Services supervised by Angela Yoak, RN, and Opal Harris, In-Home Services Coordinator. Personal Care services and records were extensively reviewed and evaluated, on January 20 and resulted in a comprehensive 76 page report from the Bureau of Senior Services in which no deficiencies were found.
The evaluation was performed by Kim Humphrey, RN, from the West Virginia Bureau of Senior Services in Charleston. Ms. Humphrey routinely reviews the In-Home Services programs of all counties in West Virginia, and was highly complimentary of Calhoun's program, adding that this was the first perfect score she had given in four years.
"We are extremely proud of the services provided at CCCOA and the work ethic and quality of our personnel," said Rick Poling, CCCOA Executive Director. "Everyone here takes great pride in their work and reflects a desire to provide the best possible services to our seniors and our community."
The CCCOA center in Grantsville and the satellite center in Minnora welcome and provide a variety of services to seniors (defined as persons sixty years of age and older) and also to non-seniors for a small requested donation; anyone interested in utilizing the services or finding out more is invited to visit.