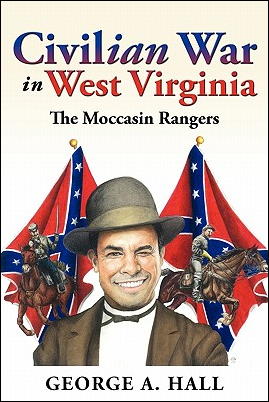 Parkersburg resident George A. Hall has written book for the 150th anniversary of the Civil War titled "Civilian War in West Virginia: The Moccasin Rangers."
The book concerns the Moccasin Ranger engagements in central West Virginia counties, much of it in Calhoun County.
It is a history of Moccasin Ranger personalities, and the leading Union companies that pursued them in Calhoun County to Greenbrier County, and all points in between.
The "Snake Hunters" and "Salem Rifles" of the Union forces shoot it out with Confederate luminaries such as Perry Conley, the Douglas brothers, Nancy Hart and George Downs.
Hall's new research sheds more light on the legendary Nancy Hart, her exploits and her marriage to Joshua Douglas.
In civilian mode, guerrillas wanted no accountability to military authority. But in the commission of crimes they would plead exemption due to a military role and the protections of a combatant.
The Moccasin Rangers were the most notorious of such bands of men early in the war.
The policies crafted then are the foundation for conducting war against insurgents today in such places as Iraq and Afghanistan.
Published by Wasteland Press, the 262-page paperback is available at www.wastelandpress.net, Amazon.com and bookstores.