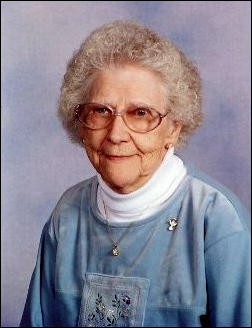 Byrnadeen Offutt will turn 90 on February 20, 2011. She is the daughter of the late Howard and Jane Shrader Cooper and was born and raised on Little Creek near Creston, WV. She worked in Parkersburg at the Shovel Factory and later met and married Deward Offutt in 1948. She then took on the duties of a housewife, which consisted of not only cooking and cleaning, but the farm duties also. She milked cows, raised chickens, slopped hogs, raised a garden, sewed and chased after two children, Lention and Sherlene.
She was later blessed in life by a wonderful daughter-in-law and son-in-law, Karen and Kenny and three special granddaughters, Melissa, Sarah and Hannah. Later, she gained three grandsons, Josh Moss, Steve McLaughlin and Luke Bowen.
Byrnadeen has stayed very active in her community and church through the years. She still raised a garden and her favorite hobby is the making of quilts and giving them to her family whom cherishes each one. She is a devoted mother and grandmother and praises her wonderful and healthy life to God. She attends the Sand Ridge Methodist Church where she plays the piano.
The family of Byrnadeen Offutt would like to extend an invitation to her 90th birthday party. The celebration will be on Sunday, February 20, 2011 from 2-4 p.m. at the West Fork Community Building at Arnoldsburg, WV. It is asked that gifts be omitted but cards would be welcomed.
If you are unable to attend, you may send her a card at 688 Daniels Run Rd, Millstone, WV 25261.