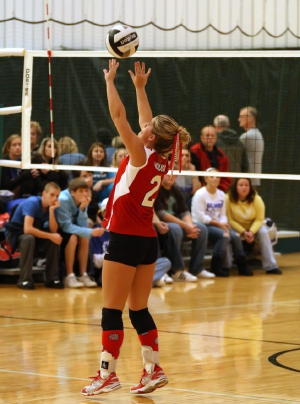 Calhoun County High School senior, Ashley Houchin, has been named as a finalist for the 2010 Andi Collins Award given annually by PrepVolleyball.com to the top senior setter in the nation.
Houchin was one of 80 seniors from across the country, and one of only two from West Virginia, to be selected as finalists.
Ashley was a two-time first team Class A All-State selection for Calhoun County as setter; as well as a two-time first team All LKC selection. She also was selected to play in the 2010 North-South Senior Volleyball Showcase.
She recorded 113 aces, 931 assists, 92 blocks, 102 kills and 198 digs in helping her team achieve a record breaking season which included first sectional championship, first regional championship and only the second appearance in the Class A state tournament.
Andi Collins was a setter who played for Mater Dei High School and Orange County Volleyball Club in California. Andi died of invasive breast cancer at the age of 16.