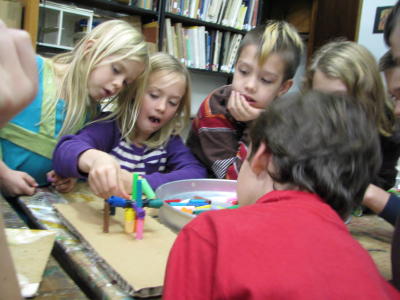 Young artists at work last Fall include from left, Sarah and True Hill and Zach Noke, slightly hidden Haley Wilson and back to camera Nolan Nelson
Heartwood in the Hills' Spring Program of classes will begin the Monday. The program runs for 12 weeks with classes offered in the morning, afternoon and evenings.
Heartwood's Dance Company is scheduled to give a Spring Performance for elementary school students, homeschoolers and the general public at Arnoldsburg and Pleasant Hill Schools at the end of the program in June.
Heartwood is a non-profit school for the arts with a mission to provide arts opportunities for everyone regardless of their ability to pay. However, the school does charge for its classes to cover operation cost. Fees are very low for 12 weeks of study.
The average cost for a single children's class is $4 and for adult classes $6. Classes may be paid for in these categories by the single class or for the entire 12 weeks. Classes for Dance Company members are not included in the single class payment category.
There is also a $10 enrollment fee and a materials fee for art classes. Scholarships, both full and partial, are available based upon need. Arrangements for these scholarships may be made at the time of enrollment. Scholarships are funded through grants and donations of individuals and businesses.
See heartwoodinthehills.org for a list of classes offered.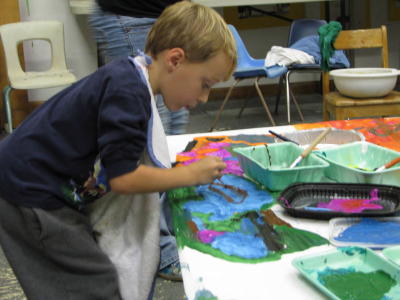 Artist Levi Morris works on a
project during the Fall Program