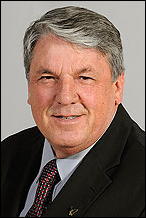 David Walker (D-Clay)
House of Delegates
WV Legislature-District 33
The House and Senate have compromised and passed a bill concerning the special primary election. May 14th, 2011 will be the date of the primary and the general election will be held October 4th, 2011.
The bill also has an added amendment to include, in the early voting calendar, the Saturday before the primary election.
In addition, a bill was passed concerning the funding of both elections. $8 million of state surplus money was set aside to finance both elections.
To move on to something close to my heart, the House passed a bill that would establish the West Virginia Council for Educational Opportunities for Military Children This would give those students in military families the ability to join sports teams and clubs, continue in the courses they were originally placed in such as Honors or AP courses, and generally make it easier for the transition between schools after a move due to military relocation.
As Vice Chair of the Agriculture committee, I am pleased to tell you that we have passed a bill to the Finance committee that would reduce the wholesale tax on heating fuel, off-road fuels, kerosene and propane used for home heating purposes or off road use. This would be especially helpful to seniors who live in homes with fuel based heating systems.
Once again I would like to thank those constituents and visitors who helped us celebrate our days of recognition this week.
Domestic Violence Prevention was one of the most important days celebrated this week. It was a joy to welcome those West Virginians who work to help improve the lives of the victims suffering from this domestic abuse. They are truly caring individuals.
I will continue to report back on all issues brought before the Legislature.
As always, feel free to contact me with any questions or concerns that you feel need addressed. You can reach me by calling 304-340-3135, by e-mailing dwalker@mail.wvnet.edu or writing to my office address: Room 210W, Building 1, State Capitol Complex Charleston, W.Va. 25305.