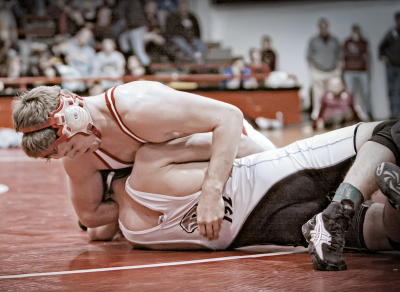 Ben Laughlin gets a pin against Roane County's Jacob Summer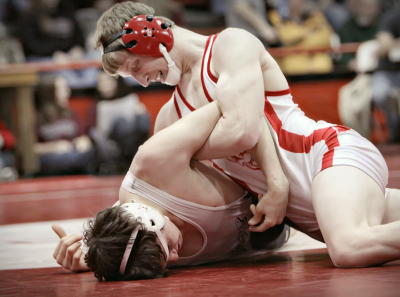 Jared Haught pins Roane County's Luke Hottle in the finals
Photos courtesy of Patty Haught
Calhoun High School varsity wrestlers traveled to Ravenswood High School Saturday to compete in the 47th Annual Little Kanawha Conference Wrestling Tournament.
They placed 4th overall in the tournament behind Clay, Wirt and Braxton counties.
Senior Ben Laughlin made school history as he became the first wrestler from CHS to capture his fourth LKC championship crown and the 11th wrestler overall to earn this accomplishment.
Laughlin improved his record to 25-2, and was also named the LKC's Most Outstanding Wrestler.
Sophomore teammate Jared Haught earned his 2nd LKC champion title and remained undefeated for the year, improving his record to 42-0.
Other Calhoun wrestlers placing in the LKC tournament were Zach Hanshaw, runner up; Jean Blair and Levi Gordon, 3rd place; and Mark Bedree and Justin Yeager, 4th place.
Calhoun will travel this weekend to Roane County to compete in the Roane County Raider Cup and will host the Regional Tournament at Mt. Zion on February 19th.