Arnoldsburg 4th grade students present flags to Grantsville
Mayor Gary Knight, (Back L-R) Mayor Knight, Teacher Shirley
Hupp, Arnoldsburg staff Angela King and Lynda Jarvis
(Front L-R) Josey Manns, Destiny Wager and Trevor Carder
Shirley Hupp's fourth grade class at Arnoldsburg Elementary completed a project yesterday, obtaining a US flag flown over the nation's capitol and a West Virginia flag to present to the Town of Grantsville.
Hupp said the flag was obtained through Sen. John D. Rockefeller IV, and was flown over the capitol on November 20, 2010.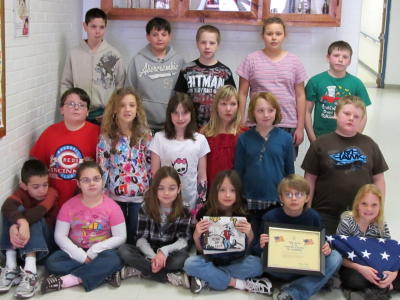 Arnoldsburg 4th graders worked on flag project - (Front) Hunter
Helmic, Emily Keaton, Ariah Bailey, Destiny Wager, Josey Manns,
Trevor Carder; (Center) James Summers, Aaliyah Falls, Samantha Hall,
Kimberly Settle, Ciera Rogers, Stephen Speece (Back) Trevor Stickler,
Zane Yineyard, Christopher Williams, Jessica Summers, Bryer Metheney
The students presented the flags to Grantsville Mayor Gary Knight, who expressed his appreciation to the students for their work.
Knight said the flags will be flown in Grantsville's triangle.