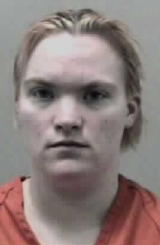 Kayla McNish, 23, of Lewis County, formerly of Calhoun, pleaded guilty to two counts of first degree arson in Lewis County Circuit Court.

She was sentenced this week on the charges and is currently in Central Regional Jail. Court records indicate she is facing between 2-20 years.

McNish set two Lewis County structures on fire in January, 2010, one a home owned by her boyfriend at Camden.

She also set fire to a barn.

The criminal complaint says she lit the home on fire by igniting Christmas decorations, and the barn by lighting a piece of paper and throwing it into hay.

McNish told the court she committed the crimes to get away from her boyfriend, who she said beat her.

McNish said she was frustrated that her boyfriend wouldn't help her take care of their child and spent too much time playing video games, according to the criminal complaint.