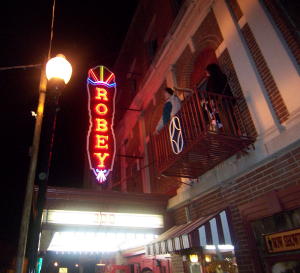 The classic Robey movie house sign was restored
Photo courtesy of www.robeytheatre.com
Spencer's Robey Theater, described as the longest running movie house in America, is lurching into 21st Century technology Friday with a 3-D showing of "Yogi Bear 3-D."
Owner Aaron Richardson says a new digital projector with 3-D equipment has been installed this week.
Movies are transcending from film to digital projection, said Richardson, which has the same resolution as a high-definition TV.
Movies on film will soon be a thing of the past.
The Robey has also installed a new digital sound processor.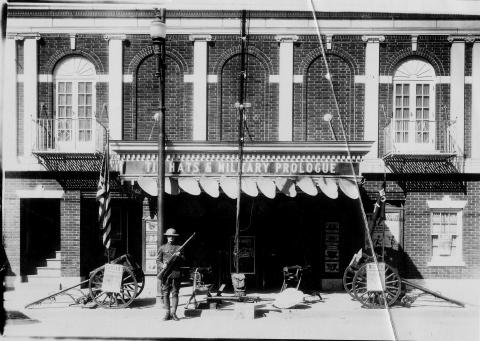 1927 photo of special Robey event
Photo courtesy of www.robeytheatre.com
The digital projector can display 35.2 trillion colors with a brightness of 18,000 lumens.
The theatre also has a new 3-D silver screen.
"We hope the community will enjoy the new technology, making their movie entertainment a lot more enjoyable," Richardson said.
The Robey is on the register as a national historic site.
See related stories 100 YEARS - Robey Theater Owners Work To Restore Its Glory
"THE CAPTIVES" PREMIERE DRAWS BIG CROWD - Ingles Journey Riveting Story
SPENCER-FILMED HORROR MOVIE DEBUTS TUESDAY - "Pretty Girls Makes Graves"