Submitted by Diann Clothier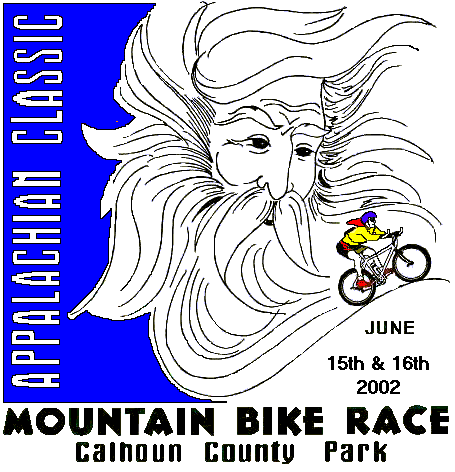 There will be an Appalachian Classic Mountain Bike Race meeting at the Calhoun County Park barn building at 6 p.m. on Monday, May 6. Everyone who is interested in helping out this year is asked to attend.
We would also encourage any crafters interested in selling their wares to please contact Diann Clothier appalachian_classic@hotmail.com or call 655-7561 so that we can have enough tables on hand... there is no fee for the crafters - we just ask for a donation to the prize table.
This year, the Classic will host the 1st ever WV Mountain Bike Association High School Series Race! The race, a short cross country course, will be held on Saturday, with high school bike clubs from all over the state competing. This is the first of a planned series of 6 races. We hope for a great turn out, and obviously will need some extra help on Saturday to pull it off - people for registration, water stations, and course officials. Don't worry - the race will be completed before the pond jump starts.
On Saturday evening, we have a great concert planned. MegaZound will be there with with their stage, and a blues-rock band, Planet 22, will present an encore of their 1998 concert. Other bands are being lined up too, so plan to spend the evening with us.
Sunday will start out with the Shimano Youth Series Kid's Races at 10 a.m. Kids will compete on 3 different courses in 4 categories: 6 and under, 7 and 8, 9 and 10, and 11 and 12. This race is free and open to all registered kids. The 1st 30 kids to register will receive a Shimano Youth Series T-shirt, too! We'll have medals and prizes for the kids, so don't miss this.
Then, at noon, be there for the big race! Turnout at the first few races this year has been great, so don't be surprised to see 200 racers this year.