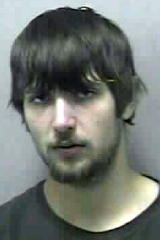 A Calhoun man and a Roane County woman have been arrested at a Ripley drug store reportedly shopping for ingredients to make meth.

Ripley police officer J. D. Hill described the couple as having a shopping list to make meth.

Twenty-one-year old Derek Michael Brannon of Grantsville and Cynthia Fields, 22, of Gandeeville, have been charged with attempting to operate a clandestine drug lab, and have been lodged in South Central Regional Jail on $250,000 bond each.

According to the Jackson-Herald, police said, that an officer went to a Rite-Aid drug store regarding a shoplifter.

The report says Fields had allegedly been in and out of the store purchasing hypodermic needles, while Brannon was purchasing cold medicine used in making meth.

When Ripley police searched the couple's car, the report says they found drain opener, coffee filters and other meth-making ingredients.