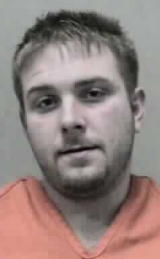 A Calhoun man is in Central Regional Jail after he entered a Big Springs home during the early morning hours New Years Day, and was held at gunpoint by the owner until police arrived.

Authorities arrested Shelby Davis, 21 (pictured left) of Big Springs, charging him with multiple offenses, including nighttime burglary, assault by threat, and obstructing. He was also charged with conspiracy to commit a felony.

Chief Deputy Carl Ballengee said police first responded to a report of a man knocking on doors in the Big Springs area about 3 a.m., but the subject could not be located.

At about 8 a.m., 911 received a call that Davis was being held at gunpoint inside the residence of Grover Collins.

In the complaint Bill Collins advised the officers that Davis said, "You're big and mean with that gun ...," indicating Davis would harm the householder.

When Deputy Ballengee arrived with State Trooper Fisher, they put Davis in handcuffs and took him outside.

The criminal complaint says once the officers exited the house, Davis started cussing and resiting Trooper Fisher, Davis tried to fight with the officers.

He was taken to the ground, and given time to "calm down," and was then placed in Sheriff Allen Parsons cruiser, says the complaint.

He is being held on $31,000 bail.