Submitted by Jean Simers

Saturday Fun Days for the 2010-2011 school year began on Saturday, October 30th at Calhoun Middle-High School with over 300 people attending.
Janet Heiney (right) spoke to the group about the Mid-Ohio Valley Health Department grant which helps sponsor a healthy breakfast at the event.
The National Guard brought their obstacle course for all the children to enjoy that day. Every child went home with a "treat" bag after lunch was served by the Middle School Boosters.
The second Saturday Fun Day was held December 18th. Parents received information regarding safety at Christmas time. Dr. Lynn Gilbert also spoke to the parents regarding the sealant program available through Minnie Hamilton Health System.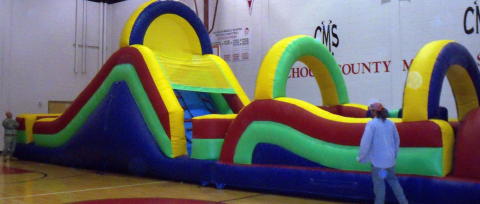 Children had the use of an obstacle
course provided by the National Guard
Parents voted on the reward trip for spring 2011 with the overwhelming winner being Idlewild Park. Santa made his annual visit giving each child a candy cane and a $5 McDonald's gift card. Each child also received a bag of "goodies" including fresh fruit to take home.
Winners of $25 gift certificates for the Pit Stop in October were, Shelvia Jones, Jaime McCumbers, Rob Parsons and Emma Richards. December winners were Becky Boothe, Terry Funk, Paul Parsons and Eddie Yoak.