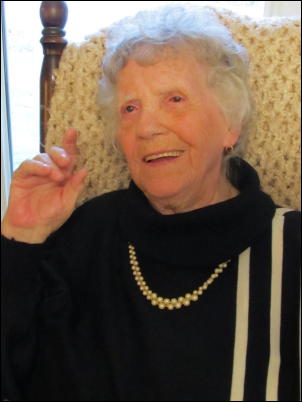 "I've seen a lot during my first 100 years"
A Calhoun centenarian turns 102 on December 12.
In 2010 Arnoldsburg resident Hazel Ruth Wallbrown Brannon celebrated her 100th birthday with family and community members at the home of her daughter Myrtle Carpenter.
"Now, she's excited about her 102nd birthday," her daughter said. "Despite having some dementia, at times her mind is better than it was."
In the last two years she has lost a sister, Eula Hall and a brother, Dale Wallbrown. A sister, Peal King, will be 100 in 2013.
2010: 100TH BIRTHDAY CELEBRATION
She was worried this last week that the winter weather forecast would not allow her visitors to come for the celebration.
"A few couldn't make it," she said, but most did.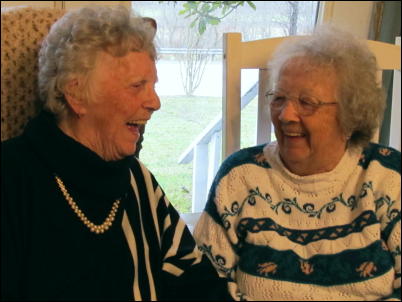 Hazel has some laughs with her 96-year-old sister Pearl King
Spirited and lively with her short and long-term memory still intact, she revels about her large extended family and her life and times growing up on Beech.
She is an optimist about the days she has left on earth, saying the relationship we have with each other and the love of the Lord should be important to life.
She is particularly proud of her Wallbrown family history, German immigrants who came to Calhoun in 1877 and purchased 300 acres on Beech.
"I've seen a lot," Brannon says, since being born on Beech in 1910.
"I don't think about getting old, but my body tells me different."
When asked about living to be this old, Hazel said, "God has a reason, maybe more time to get better."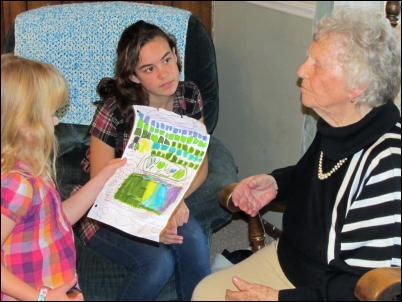 Receiving a greeting from some of the grandkids
See related story HAZEL BRANNON IS LIVING TO BE 100 - Descendant Of Beech's Wallbrown Family