By Bob Weaver

We won't have Don Blankenship to kick around anymore.

Blankenship, CEO and chairman of the board of Massey Coal, has announced his retirement at the end of the month.

Documents filed say he is getting at least $12 million to retire from Massey Energy Co.

His retirement deal also covers undetermined performance awards for this year, which means more money.

He also gets health insurance and a $5,000 a month consulting job for two years, as well as a secretary and use of his main office in eastern Kentucky for up to five years.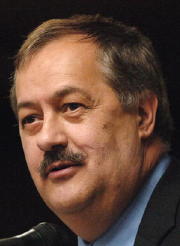 In exchange, Blankenship (pictured right) can't compete with Massey for two years.
While Blankenship leaves behind record profits for the company, he also leaves a record of one of the worst safety and environmental violations in the USA, and the most mining fatalities, according to a recent report.
Blankenship regularly professed to make safety a high priority, yet his company was cited for billions of dollars of safety violations.
Pittsburgh attorney Bruce Stanley said Blankenship has left a legacy in the coalfields, where his mountaintop mansion sits high above his neighbors, where "He poisoned his own back yard."
Blankenship used his wealth to try to influence West Virginia politics and public policy. In 2006, he spent more than $1.8 million to promote 41 hand-picked Republican candidates.
He also spent $3.4 million to help elect the first Republican to the WV Supreme Court in 2004, which was later the object of court actions, national TV programs and a novel by John Grisham.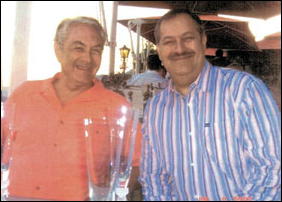 Chief Justice "Spike" Maynard (left) vacation-
ing with Massey CEO Don Blankenship in Monaco
Blankenship was photographed abroad reportedly partying with WV Supreme Court Justice Spike Maynard, who ruled on controversial Massey cases, declining to step down. Maynard was later defeated, and recently failed at a bid to be elected to Congress.
Lorelei Scarbro, a coal miner's widow from Rock Creek, has fought for years to stop Massey's planned mountaintop removal operation near her home, claiming their health, property values and quality of life have been hurt by dust, vibrations, and water pollution.