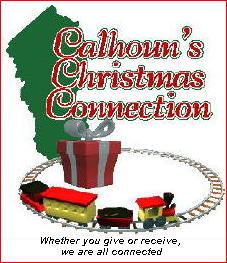 Submitted by Jean Simers

Calhoun's Christmas Connection 'Parents Shopping Day' will be held at the Armory near Big Bend on December 16, with an alternate snow date of December 17.

Next week Calhoun's Christmas Connection committee will be getting ready for the event. The group will meet at the Armory at Big Bend each day beginning at 9:00 a.m. to sort toys and get everything ready for the big day.

If you would like to help in any way, just come to the armory Monday, Tuesday or Wednesday. Even if you can just come for a short time during any of the three days, your help will be greatly appreciated.

When you shop the after Christmas sales, please remember the Christmas Connection for next year. The Armory will be allowing the group to store supplies for next year's event.

For more information call WVU Extension Service 304-354-6332, Family Resource Network 304-354-7177 or Carol Sloane 304-354-9484.