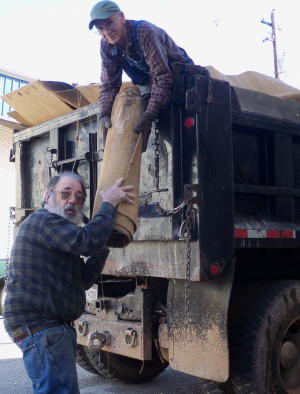 Harley Harris (top) and Ron Sloane filling dump truck
Submitted by Jean Simers
Volunteers have been working to prepare the space for Grantsville's new thrift shop, to be located in the basement of the Masonic Lodge building, the old Dalton Store building, at the corner of Main and Court Streets.
Workers removed the old carpet and cleaned out the space, filling a dump truck donated by Dick Ullum. Now volunteers will paint and clean and get ready to open the thrift shop as soon as possible.
If you have clothing or other items to donate to the project, please contact the Family Resource Network (FRN) office at 304-354-7177.
Volunteers working on Monday included, Harley Harris, Barb McKown, Judy Powell, Jean Simers, Carol Sloane and Ron Sloane.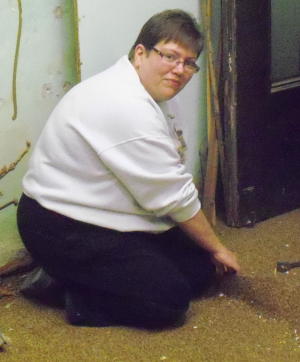 Barb McKown helps remove old carpet