Grantsville firemen extinguish blaze before fire ventilated
The owner of a Phillips Run house was awakened early Saturday morning with smoke surrounding his bed, but was able to leave the dwelling and walk across the highway to a neighbor's house to call the Grantsville Volunteer Fire Department.
The burning house was a small modular dwelling.
Firemen responded to the scene at 1:30 a.m., three miles south of Grantsville on Route 16, to discover the fire had not ventilated.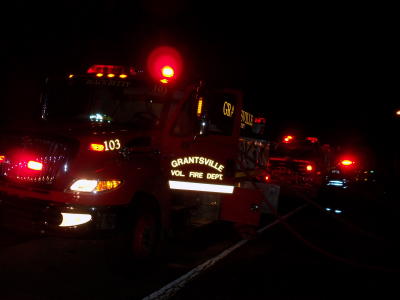 Grantsville Firemen responded with three units to Phillip's Run residence
Making entry with breath apparatus, they put out the fire without extensive damage to the house.
The male owner, who suffered from some smoke inhalation, did not require further treatment.
Sources at the scene said the man had recently moved into the house.
The Arnoldsburg VFD was called for mutual aid, but returned to the station before arrival, the fire being brought under control.