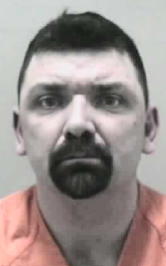 Grantsville resident Christopher Todd Smith was indicted this week by a Lewis County grand jury on three counts of obtaining property in return for worthless checks.

The latest charges have been added to a lengthy list of criminal problems Smith is facing.

In August, Smith was sentenced in Calhoun Circuit Court to 1-3 years in the state penitentiary, related to possession of "a one gallon bag of marijuana" with intent to deliver.

A federal grand jury has reportedly heard testimony in Elkins regarding what role Smith might have played in the sudden death of his girlfriend Kelli Lawson last December.

The Weston Police Department has been investigating Lawson's untimely death for several months.

Numerous local residents have reportedly given testimony related to that incident.

August's sentencing came following a plea agreement in the 2007 case which has long malingered in the court system, with numerous delays, motions, recusals and fired lawyers.

SMITH HAS PENDING CASES

A criminal complaint has been filed against Smith for the intimidation of a public official, linked to the alleged removal of decorations by Smith from the grave-site of Patsy McCartney's late husband. McCartney is a probation officer.

Smith is facing another charge related to shooting an air rifle at a Cabot Station resident, who is reportedly a witness in a Smith case.

He has also been charged with destruction of property belonging to Gary Knight, Mayor of Grantsville.

Numerous other charges have been filed against Smith in Lewis County.