A Calhoun man was arrested late Monday night after he allegedly fired three or four shots into a car at a woman.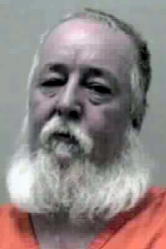 A State Police complaint says that Daniel Henry Hudson III, 51 (pictured left) was attempting to shoot his domestic partner Debroa A. Jensen on Altizer Road.
The couple, according to the report, have been together for four years.
Hudson is charged with wanton endangerment and domestic battery, and is in Central Regional Jail.
The complaint says that Hudson began an argument with Jensen, who told authorities that Hudson was intoxicated and had started an argument with his son Daniel Henry Hudson IV.
That argument earlier in the evening resulted in law enforcement going to the residence, after which the elder Hudson told police "that both parties had separated and law enforcement was no longer needed."
Jenson told Sgt. O. S. Starsick that she "was not in fear of her safety until she heard (Hudson) verbally tell a dog in the residence that he was going to kill her."
At that time, according to the complaint, Jensen attempted to get a set of car keys from Hudson to leave the premises, and during a struggle he "took her by the right arm and pushed her up against a bathroom sink, holding her there by her shoulder and throat." Police said they observed marks on Jensen.
The complaint says Jensen managed to flee to a car in the driveway, with Hudson telling his son "to come out and watch him kill her."
While Jensen was pulling out of the driveway, Hudson fired a revolver three to four times at her vehicle, according to the complaint.
Jensen told authorities that while driving away, a back tire went flat, apparently after being struck by a bullet.
Police discovered a .38 caliber pistol behind a shed on the property.