Kirk Allen "Bucky" Miller, 33, of Salem, plead guilty this week for the murders of Mike and Julie Flanagan, both 52, residents of Sycamore Creek near Millstone, alleviating a trial which was scheduled for November.

Miller, in a court document said, "I went to his (Mike Flanagan's) house to get my money. He said he would buy a shotgun from me. I got mad and went and got the gun from my truck. I shot Mike and Julie Flanagan."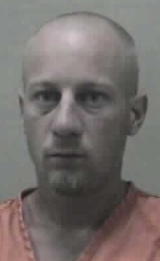 The court record says Miller (pictured left) killed Julie Flanagan "simply because she was present at the scene."
Miller, who had been working as a well tender in the area, plead guilty before Judge David W. Nibert in Mason County to two counts of first degree murder, which means that he must serve 30 years in prison.
State Police say that Miller gave a statement indicating the murders were over a drug deal gone bad, that Mike Flanagan owed Miller money, Miller had sold marijuana for him.
The criminal complaint says Flanagan "agreed to split the money with [Miller]" but did not keep his promise.
"Miller stated that he asked Mr. Flanagan repeatedly about his payment," the complaint says.
"Miller...stated he thought about killing Mr. Flanagan several weeks prior to his death..."
The criminal complaint says Miller cut the couple's phone lines before shooting them multiple times with a shotgun at close range, both were sitting in chairs.
Following the shooting, the criminal complaint says Miller left the house with two jars of marijuana and two Ruger .44 pistols, one of which he later sold to an associate.
Miller was indicted in February, 2010 for the 2009 Easter weekend slayings, having been arrested by the State Police three months after the killings. Police say he confessed the first time they questioned him.
Miller will be sentenced on December 3.
Special prosecutors Jerry Hough and Phillip W. Morrison II have been appointed to the case, with Miller's defense attorney listed as Teresa Monk.
See related stories ACCUSED MURDERER MAKES FIRST APPEARANCE - Miller Charged With Double Murder
CALHOUN CITIZENS CAN REST EASIER - Miller Arrested For Calhoun Double Murder