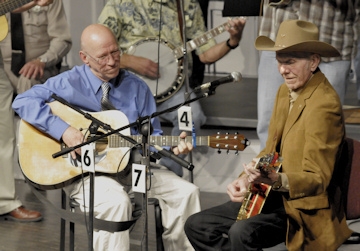 Buddy Griffith and Doug Dillard (R) playing a tune
during the second half of Tuesday night's concert.
Story and Photos by Drew Moody
for the Hur Herald
It was a night of bluegrass and laughter, with a touch of vaudeville, at the bluegrass masters artist series concert featuring Doug Dillard, a banjo maestro, and Bluegrass Hall of Fame member.
Dillard had a reoccurring role on the CBS sitcom, "The Andy Griffith Show" as part of the "Darling clan." The television series aired from 1960-68, continuing without Griffith as "Mayberry R.F.D." until 1971.
Dillard started playing banjo at 15, eventually forming 'The Dillards' with his younger brother, Rodney, along with Dean Webb and Mitch Jayne. They were embraced by folk music artists of the early 1960s. The group either toured or appeared with Bob Dylan, Elton John, "Peter, Paul and Mary," Joan Baez, and others.
His prowess on the banjo also made him a sought after studio musician. Dillard is featured on recordings by a long list of famous musicians including: The Monkees, The Byrds, The Beach Boys and Linda Ronstadt.
The Mayberry Returns concert featured the 'Mayberry' characters, Deputy Barney Fife and Ernest T. Bass.
This restored 1963 Ford Galaxy 500 police cruiser greeted
concert goers near the steps of GSC's Fine Arts Center.
The GSC Bluegrass Band, directed by GSC's 'Dean of Bluegrass' Buddy Griffith, played folk songs from the TV sitcom. They were joined by special guests including former 'Mountain Fury' bluegrass band members Rebekah Long and Eileen Marsh.
The 'GSC Mayberry Orchestra' featured current and former GSC students and professors. GSC alumni returning to the Fine Arts Center stage included: Shaylyn Kimble, Crystal Sutton, Donald Taylor, Eileen Marsh, Mike Sutton, and Rebekah Long. Retired GSC professor Charles Miller also joined the band. Harry Rich, GSC professor emeritus, conducted the orchestra.
David Browning, as Deputy Barney Fife, showed his
versatility Tuesday. He told jokes, kept a well-paced
banter with performers and the audience, danced a little and
surprised the audience with an accomplished singing voice.
The late Don Knotts, a native West Virginian, was the actor who became famous playing the role of Andy Griffith's sidekick, Barney Fife. Knotts was a 1948 graduate of WVU, majoring in theater. His portrayal earned him five Emmy Awards for Best Supporting Actor.
Allan Morris took on the role of Ernest T. Bass.