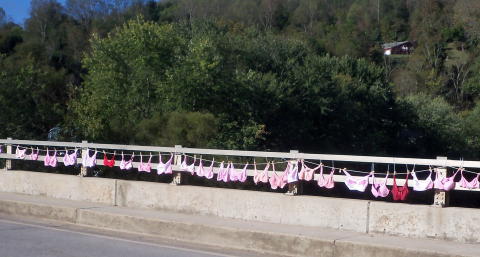 Submitted by Jean Simers
Members of the Women First Committee and other volunteers, promoted Breast Cancer Awareness month during the town-wide yard sale earlier this month.
As families drove across the Bernard P. Bell Memorial Bridge, they were greeted by ladies distributing bags of breast cancer awareness information. To further promote the cause, many of the ladies wore pink bras over their shirts, causing quite the commotion.
A clothesline of pink bras was hung on either side of the bridge with a sign stating, Show Your Support. Though the methods of promotion have changed throughout the years, the message remains the same - prevention is the key.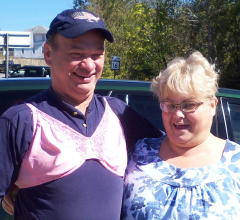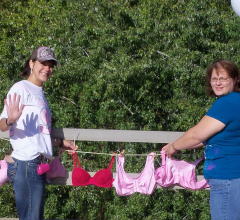 Left: Grantsville Mayor Gary Knight and wife Rose show their
support; Right: Lisa Hickman (L) and Jennifer Dennison hanging bras
Breast cancer affects women and men every day and early detection is essential for survival. The West Virginia Breast and Cervical Cancer Screening program provides coverage for mammograms and other related screenings for women with no insurance or lack of adequate coverage.
To learn more about what tests you need or how you can schedule your mammogram at Minnie Hamilton Health System, please call Barb McKown at 304-354-9244. Remember Early Detection for Best Protection.
Next year the group hopes to increase the number of bras across the bridge, so if you have bras to donate please contact Jean Simers at the Family Resource Network office 304-354-7177.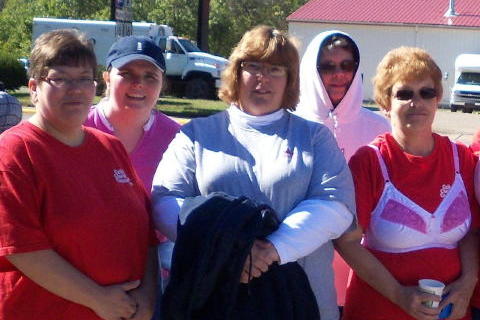 L-R: Volunteers, Barb McKown, Amy Cooper,
Anita Parsons, Emily Gainer, Judy Powell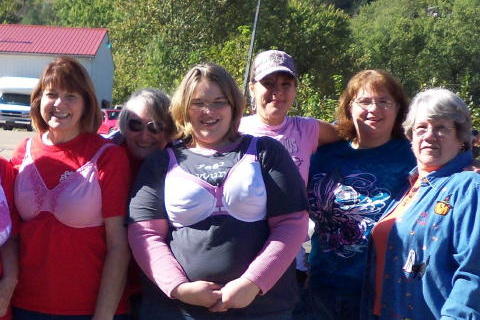 L-R: Volunteers, Jean Simers, Carol Sloane, Sam
Cason, Lisa Walker, Jennifer Dennison and Anne Smith