Emma Lavaughn Erlewine was 97 when she died on May 28, 2017, a delightful woman when she was interviewed by Hur Herald in 2010, the longest member of the Enon Baptist Church.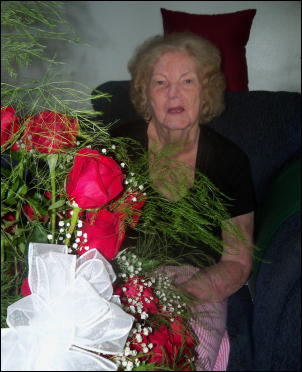 2010 - Talking about aging, Lavaughn Roberts Erlewine of Calhoun Homes said yesterday, "Everyone wants to go to heaven, but nobody is homesick."
Mrs. Erlewine was celebrating her 91st birthday.
She said a doctor once told her she wouldn't live to be 70, indicating one of the driving forces behind her longevity is "taking care of my grandchildren."
She received 91 roses from her grandson, Todd Erlewine, who lives in Lakemont, Georgia.
She is the mother of eight boys, Ronnie, Jimmy, Michael, Tink, and Donald, with sons Butch, Richard, and Roger deceased.
She has lived at Calhoun homes for over 30 years, priding herself in maintaining her independence, her husband Blaine passed away in 1992.
She was the daughter of Tunis and Opal McCartney Roberts, who resided at Henrietta.