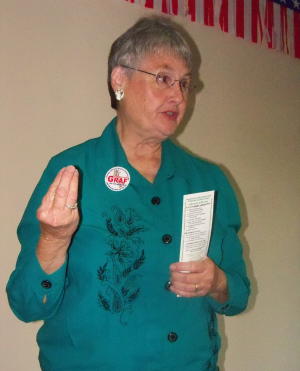 You may not know who she is yet, but voters have an opportunity to vote for a populist candidate for the US House of Representatives.
Virginia Lynch Graf is running a shoe-string campaign against millions of dollars in the campaign coffers of Shelley Moore-Capito, saying she is "not beholden to anyone."
Graf's campaign is funded solely from small individual contributions, and takes no PAC, special interest or lobbyist money.
The state Democratic party has even turned their backs on Graf because she hasn't got enough big money friends.
Virginia Graf is a lifelong educator with no politician background, who says, "My goal is quite simple, I will represent the people, not the lobbied interests."
At a Spencer rally, Graf said. "I'm really concerned that the Tea Party support of multi-millionaire dollar Republican candidates who have multi-million dollars of personal wealth is highly misdirected."
"They certainly are not populist candidates, who will work for what's left of the American middle class," she said.
"It's amazing to me that people continue to support Shelly Moore Capito, who nearly always supports big money interest."
"My promise is to speak the truth, no double talk," she said.