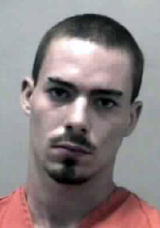 The Calhoun Sheriff's Department has arrested William Thomas Abicht, 21 (pictured left) after the sheriff's department and the State Police responded to a 911 call late Wednesday night.

Abicht reportedly was firing a gun from the lawn of a Pink Rd. residence, the 911 caller said, "My landlord's son is shooting a gun," indicating gunshots were being fired into the air and into the caller's residence.

One of the shots reportedly went through the door of the dwelling.

He has been charged with wanton endangerment, and is currently in Central Regional Jail.

Bail has been set at $8,000.

Police arrived on the scene very quickly after the 911 call.

The incident happened about one mile up Pink Road, off US 33-119 near the Calhoun-Roane line.