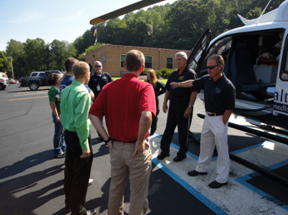 HealthNet flight team leader,
Doug Douglas speaks to students
Submitted by Donna M. Steigleder
Office Manager/Community Outreach Coordinator
Northern Rural Health Education Center
Students completing a rural rotation in Region 2 of the Northern West Virginia Rural Health Center (NWVRHEC) were visited by Doug Douglas, flight team leader for HealthNet Aeromedical Services in August.
Douglas explained what services HealthNet offers, where they are located and the importance of being aware of weather conditions before calling for air transport. When a critically ill or injured patient's life hangs in the balance, HealthNet can be the deciding factor. Specially trained flight teams are on duty around the clock, ready to respond to emergencies throughout the region.
Criteria for becoming a member of the team, as well as the experience pilots bring to HealthNet, was explained by Douglas. The students learned what is considered before HealthNet responds to a site, including the status of the patient and weather conditions.
Five bases are located throughout West Virginia. Students learned HealthNet has people who visit rural areas to find landing zones, and that they return periodically to make sure these are still viable.
Douglas discussed the importance of understanding the problems of "helicopter shopping." Helicopter shopping, or calling multiple flight programs when a request has been turned down for poor weather conditions, is an inherently dangerous practice. It is strongly discouraged by the Association of Air Medical Services, the Federal Aviation Administration, and other national organizations involved in air medical transport.
Students pictured (L-R) Dana Vanino, Michael Brazeau, Brandon Specht, and Noah Childers with Executive Director, Lew Holloway in back
The presentation was arranged as an Interdisciplinary Experience (IDE). IDE is a requirement each student must complete in order to fulfill expectations of their rural rotation, intended to expose students to rural medicine so they are better prepared to use the experience as they move forward in their careers.
At the presentation's conclusion, Douglas brought in a HealthNet helicopter and its team to allow the students to examine the helicopter, talk to the team and take a short flight over Calhoun County.
Minnie Hamilton Health System supplied NWVRHEC with space to host the presentation as well as a landing zone for the helicopter.
NWVRHEC is a nonprofit organization that works with health science students as they complete their required rural rotations. One of its goals is to entice health professions students to return to the rural communities when they complete their schooling. This is partially accomplished by providing students and medical residents with direct links to rural communities and rural health centers and facilitating the decentralization of health professions education, training and recruitment.
Its mission is to bring quality healthcare to the underserved populations in the 23 West Virginia counties served by NWVRHEC, by training, recruiting and retaining health care professionals.
For more information about NWVRHEC, please call 304-462-6465.