By Bob Weaver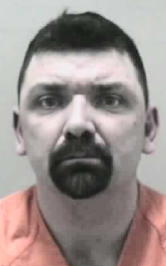 Grantsville resident Christopher Todd Smith was sentenced yesterday to 1-3 years in the state penitentiary, related to Smith's possession of "a one gallon bag of marijuana" with intent to deliver.
Smith was ordered to pay the costs of the court action, and will be given credit for time already served.
A federal grand jury is reportedly hearing testimony this week in Elkins regarding what role Smith might have played in the sudden death of his girlfriend Kelli Lawson last December.
The Weston Police Department has been investigating her untimely death for several months.
Numerous local residents have reportedly given testimony related to that incident.
Yesterday's sentencing came following a plea agreement in the 2007 case which has long malingered in the court system, following numerous delays, motions, recusals and fired lawyers.
ALSOP FIRMLY DENIES MOTIONS
Special Judge Jack Alsop firmly denied a number of motions made by Smith's defense attorney Tom Whittier, including a motion to recuse current special prosecutor Jerry Hough.
Smith took the stand in an effort to make a case to dismiss Hough as the prosecutor, claiming that a casual conversation he and Hough had during a traffic ticket hearing in Glenville would make Hough unfit to prosecute the current case.
Judge Alsop disagreed, making several legal points, including Smith's failure to follow set time frames for motions, indicating there was no evidence that rose to disqualify Hough.
He asked Smith's attorney Tom Whittier, "What is the basis of recusal?"
Whitter continued to claim the conversation was "prejudicial." Judge Alsop denied the motion, saying "There is not enough to recuse, Hough."
Attorney Wittier, in another motion, moved to have the terms of the plea agreement remain sealed, asking that the press be removed from the courtroom.
Judge Alsop denied the motion.
"Everything has been done to delay this matter," Alsop said, telling Smith that he has two choices at this juncture in the case, either accept the plea agreement or go to trial.
Smith, through his attorney, accepted the plea agreement.
PROBLEMS LEADING TO SENTENCING
Attorney Whittier had asked to be dismissed as Smith's attorney and attorney Joshua Sturm was appointed.
Smith filed a motion that Sturm had not been responsive to his case, calling him an "incompetent attorney," according to court records.
The court apparently held Whittier to represent Smith during Thursday's hearing.
Both Judge David W. Nibert and Thomas Evans III had recused themselves from the case, likely because the court's probation officer is involved in a Smith case.
Smith had also filed a motion that Judge Alsop be disqualified.
Calhoun prosecutor Rocky Holmes had been disqualified.
SMITH HAS OTHER PENDING CASES
A criminal complaint has been filed against Smith for the intimidation of a public official, linked to the alleged removal of decorations by Smith from the grave-site of Patsy McCartney's late husband. McCartney is a probation officer.
Smith is facing another charge related to shooting an air rifle at a Cabot Station resident, who is reportedly a witness in a Smith case.
He has also been charged with destruction of property belonging to Gary Knight, Mayor of Grantsville.
Numerous charges have been filed against Smith in Lewis County.