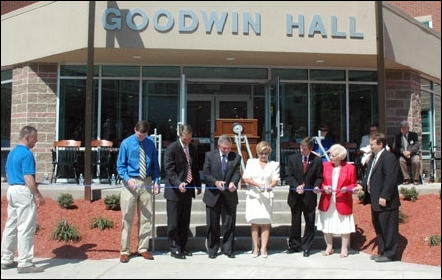 The Ribbon is cut officially marking the opening of Goodwin Hall. (L-R) GSC Student Body President Marlon Henry, WVHEPC Chancellor Dr. Brian Noland, BBL Carlton Senior Vice President Keith McClanahan, GSC Board of Governors Chair Sue Morris, GSC President Dr. Peter Barr, and donor Margaret Miller Goodwin.
By Bob Edwards
Public Relations Dept.
Glenville State College
Glenville, WV - The first phase of a new $23,000,000 residence hall was dedicated on Thursday, August 19th at Glenville State College.
The first wing of the building is ready for occupancy and will house 220 students for the Fall 2010 semester which began on Monday, August 23rd.
When phase-two is completed later this year, 480 students will live in Goodwin Hall.
The new facility is named in honor of Margaret Miller Goodwin, GSC class of '51, who has made a significant gift to the Glenville State College 'Transforming Lives Now!' capital campaign.
Kicked off in July 2007, the campaign is the first comprehensive effort to secure the future of Glenville State and the impact of the college on students and Central West Virginia. To date, over $19,200,000 has been pledged to the campaign.
Goodwin is a native if Gilmer County, West Virginia who now resides in Montezuma, Ohio with her husband Bill. She is very active in both the Glenville High School Alumni Association and the Glenville State College Alumni Association, having been named the high school's Alumnus of the Year in 2000 and receiving the prestigious GSC Alumni Service Award in 2008.
The announcement of the Goodwin's generous gift was made at the 2010 GSC Alumni Day Banquet.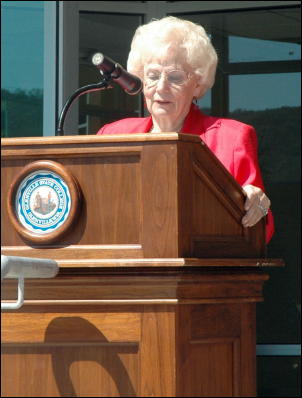 Margaret Miller Goodwin speaks during the dedication
of the new GSC residence hall named in her honor.
"Glenville State College gave me a background that prepared me for life, and got me where I am today. Education gives you the power to choose your path in life and I am grateful for the education I received at Glenville State College. Bill and I love Glenville State and are very proud to be a part of this beautiful building that will help GSC continue to provide life changing opportunities for future students," said Mrs. Goodwin.
Goodwin Hall has 184 single rooms and 137 double rooms. In addition, the facility features 16 ADA compliant rooms. Each room is furnished with a desk, chair, dresser, wardrobe, bed, refrigerator, and microwave.
The facility features single or double rooms and each two rooms share a common bathroom. On each floor, students will have use of a study lounge, a laundry room, a vending machine quarter, and a small commons area with a sink. All rooms have wireless and ethernet hookup and cable TV.
"This is just the next step in the rebuilding and modernization of our campus. Enrollment has been rising steadily for the past several years and we needed to have more room in our residence halls. We relied on a lot of student feedback to help us design and furnish this building so it is loaded with comfort and conveniences. The building features a tight security system to help prevent unauthorized access," said Jerry Burkhammer GSC Dean of Student Affairs.
The six-story building will not only be the newest housing option for GSC students, but will also hold campus offices, conference rooms, and the campus physical plant.
Glenville State College President Dr. Peter Barr says Goodwin Hall will provide a living atmosphere that is what students expect and deserve.
"Goodwin Hall is state-of-the-art with all of the amenities that today's college students want, all in a safe and secure environment. This is another positive step in the incredible progress that we are making at Glenville State College," Barr said.
In recent years GSC has seen the construction of the Pioneer Village student housing complex, completion of the Mollohan Campus Community Center, and total renovation of the Science Hall with modern classrooms and state-of-art laboratories.
In the near future, GSC plans to break ground on the Pioneer Center, a facility on Mineral Road that will house an expanded Natural Resource Center, a 24/7 health care facility, athletic facilities, and convention center.
"Goodwin Hall is another example of the commitment, and confidence that people have in Glenville State College. It reflects our growth and the importance of GSC to the local community and the entire state as we strive to become the best liberal arts college in the country," said Barr.