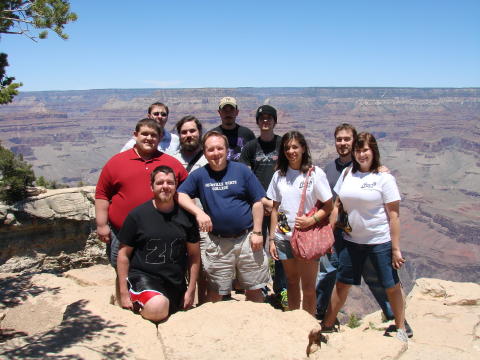 The GSC Tuba and Euphonium Ensemble visited the Grand Canyon
on their trip to Arizona. Pictured left to right, (front row)
Timmothy Walker, Professor Lloyd Bone Jr., Jessica Patterson,
Stephanie Sumner, (second row) Ryan Deems, Kenny Noland, Leon
Hart, Matthew Sumner, (back row) Chris Baber, and Travis Truax.
Submitted by Bob Edwards
Public Relations Department
Glenville State College
Glenville, WV - The Glenville State College Tuba and Euphonium Ensemble, under the direction of GSC Assistant Professor of Music and Fine Arts Department Chair Lloyd Bone Jr., performed this summer in Tucson, Arizona. The group was one of only twenty-two collegiate and university tuba and euphonium ensembles from around the world invited to perform at the International Tuba and Euphonium Conference (ITEC) staged at the University of Arizona.
The conference is a huge bi-annual event that showcases some of the finest low brass performers, educators, ensembles and researchers from around the world. This was a major honor for the GSC Department of Fine Arts as they were the only group of their type from West Virginia invited. Along with the Penn State Tuba and Euphonium Ensemble, they were also one of only two ensembles representing this entire region of the United States.
The GSC performers were: Matthew Sumner of Gilmer County, West Virginia, Ryan Deems of Bridgeport, West Virginia, Kenny Noland of Oakland, Maryland, Stephanie Sumner of Gassaway, West Virginia, Jessica Patterson of New Enterprise, Pennsylvania, Travis Truax of St. Mary's, West Virginia, Leon Hart of Parkersburg, West Virginia, Chris Baber of Craigsville, West Virginia, and Timmothy Walker of Coolville, Ohio.
Half of the group flew to the conference, while the other half traveled by van with Professor Bone. The drive from Glenville to Tucson was roughly thirty-six hours and was done with only restroom and meal breaks. At the end of the conference the group was treated with a trip from the very southernmost part of Arizona to the northern part of the state to visit the Grand Canyon.
Senior Music Education major Stephanie Sumner said, "The trip was a great experience and I am so glad we got to go. It provided us with a lot of new information, a chance to meet people and an opportunity to see some incredible places we may never get to see again. I am thankful for those who helped send us on this trip because without them we would not have had this great experience."
Ryan Deems, senior music education major said, "It was a fantastic experience to see some of the best performers in the business and to see a whole part of the country I had never seen before." "Seeing our students' reactions as they were watching some of the finest musicians on the planet perform was just priceless. It was actually really funny because I would look down the row of GSC students and they were just awe-struck and speechless. Then they saw the Grand Canyon. The trip was phenomenal. We cannot thank everyone enough who helped make this amazing experience possible. Special thanks, goes out to Dr. and Mrs. Barr for all of their help and support. It was truly a blessing from God," said Professor Bone.
Performing at ITEC is a major honor as this conference is only held once every two years and is the largest event in the tuba and euphonium business. Thousands of tuba and euphonium performers and educators attend the event. The Glenville State College Tuba and Euphonium Ensemble were also invited to perform at the 2008 ITEC which was held in Cincinnati, Ohio.