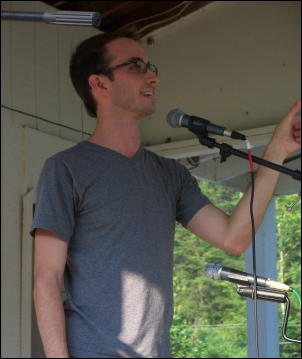 Appalachian storyteller Adam Booth tells some wild
tales at Fireman's Bluegrass Festival Thursday evening
Adam Booth, a West Virginia storyteller whose lies and tall-tales have won multiple awards, brought his tales to the Fireman's Bluegrass Festival last night.
Booth, a native of Huntington, tells original Appalachian tall-tales, heartwarming personal stories, and fantastically modified histories.
He has told stories and competed in West Virginia, Ohio, Tennessee, Maryland, Virginia, South Carolina, and Pennsylvania and is a two-time recipient of the "Biggest Liar" title in West Virginia.
Booth says he is highly influenced by the stories that he heard (and continues to hear) from his grandparents and great grandparents.
Storytelling was always present at family celebrations and holiday gatherings and is a very important part of Booth's life.
Storytellers Suzi Whaples and Rich Knoblich also appeared, with presentations by the Clay County Cloggers and the Clay Promenaders.