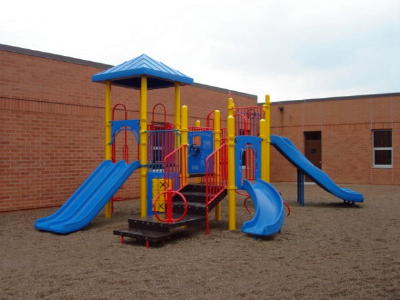 New playground equipment has been installed at Pleasant Hill
By Deb Goff, Secretary
Pleasant Hill Elementary
Monday, August 23, is the first day of school for students in Kindergarten through 4th grade at Pleasant Hill Elementary. Pre-Kindergarten students will begin on Tuesday, August 31.
The original construction has been completed, the walking track has been repaved, the exterior doors have been given a fresh coat of paint, as well as the gates and pipes around the parking lot, and new playground equipment has been installed.
Work has begun on the gymnasium wall, but the kitchen is fully operational for food preparation. For the first week, sack lunches will be served.
The time for parent pick-up of students has been changed to 3:05 p.m. Until the gymnasium is available, the location for parent pick-up has been moved to the hallway behind the office.
Volunteers are needed to complete the pavilion and reorganize the library. Contact the school at 304-354-6022.