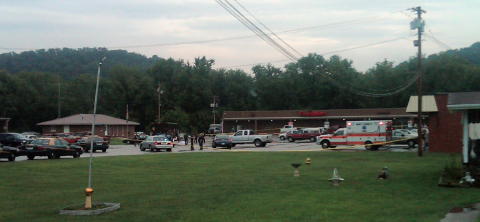 Shooting reported in front of Elizabeth's State Police barracks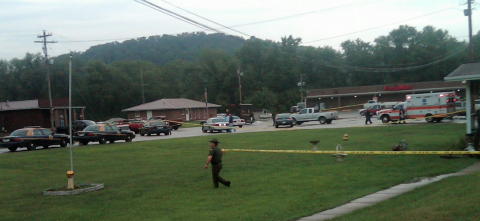 Trooper seals off crime scene in Food Mart parking lot
(Hur Herald Photos)
WEDNESDAY 6:20 PM UPDATE (8/11/2010) - State Police have confirmed that a shooting happened at the State Police detachment in Wirt County.
According to Sgt. Michael Baylous, a person kidnapped a UPS driver and drove the UPS truck to the police detachment in Elizabeth.
When the hostage taker arrived at the police detachment, he began shooting a rifle towards the detachment, Baylous said.
A trooper, responding to a call about shots being fired at the barracks, saw the suspect and noticed he had a gun and shot and killed the suspect, Baylous said.
The trooper, according to Baylous, pulled into the barracks, which was empty.
"As the trooper pulled up on the scene, he was confronted by a man with a rifle. The trooper had to shoot, and he killed the man," Baylous said.
Baylous said he did not know when he would be able to release the man's identity because the man did not have any identification on him. Sources indicated the man was 40-50 years old.
He said the trooper has been with the department for many years and is a "veteran trooper." He would not release the trooper's name.
The gunman had apparently kidnapped a UPS driver and forced the driver to take him to the Elizabeth detachment, Baylous said.
The UPS driver was at the detachment at the time of the fatal shooting, but was not injured, Baylous said.
There was no indication why the man may have targeted the detachment, Baylous said.
WEDNESDAY 5:00 PM - A shooting has been reported in front of the State Police barracks in Elizabeth about 5 p.m.
A UPS truck is inside an area next to the barracks that has been cordoned-off as a crime scene, and one observer says there appears to be a body covered by a sheet near the UPS truck.
There is no confirmation.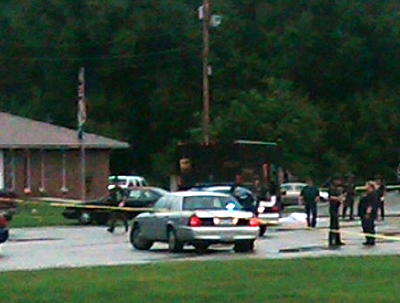 A sheet-covered body appears to be next to UPS truck
(Hur Herald Photos)
The State Police barracks faces a large parking lot in front of Food Mart, located just off Rt. 14 in Elizabeth.
Food Mart employees have been told to stay inside the store, although the incident is over.
State troopers are on the scene securing the area.
Wirt County EMS responded to the reported shooting incident, but returned to their station which is a short distance away.
More to follow ...