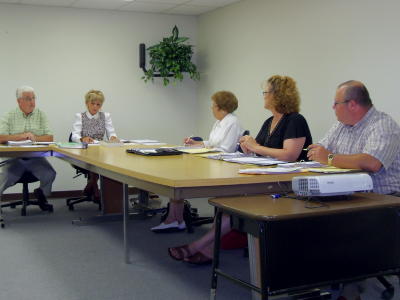 School board selects new president Steve Whited,
(L to R) Superintendent Propst, Cynthia Dale,
Joy Starcher, Faye Barnhart and Mike Wilson
By Bob Weaver
Hospital administrator Steve Whited was elected president of the Calhoun Board of Education at Monday's meeting, and Cynthia Dale will serve as vice-president.
Board President Steve Whited was absent because of a scheduling conflict.
With new members Faye Barnhart and Mike Wilson attending, the board approved several new hires, including Gina Cano-Stump as director of the the CMHS band and Donald Pitts, who returns from retirement to fill his former position as Director of Support Services. Rexell Yoak will be head middle school coach.
The board unanimously approved the county's 10-year Comprehensive Education Facilities Plan, which includes the construction of a new elementary school at Arnoldsburg, the return of 5th grade students at Calhoun Middle to the county's two elementary schools, among other proposed improvements to school buildings.
Bette Ritchie gave board members a report on the newly developed Kindergarten Report Card, which she says will help parents better understand the progress of their child.
The board voted to put out for public comment, the use and possession of electronic communications devices, visitor access to school, promotion and retention policy and textbooks. Parents and community members can access the policies on-line at Calhoun County Schools and make comments.
Superintendent Propst gave a report regarding the Calhoun-Gilmer Career Center, saying they received a $16,000 grant for a new computer lab.
The official times for school board meetings was changed to 7 p.m.
Complete minutes of the meeting will be available at Calhoun County Schools