By Bob Weaver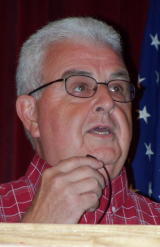 Calhoun Superintendent of Schools Roger Propst (left) told school board members last night that, "Bad news keeps on coming," with continuing structural problems at Pleasant Hill Elementary School.
Propst said he will be issuing a press release to assure parents and the community about the safety of the school, and define what actions will be taken to correct the problems.
The West Virginia School Building Authority has already funded $2,300,000 to replace faulty sewage lines and related problems with the building, a major repair project that started in 2008.
Propst said the soil underneath the school's concrete floors was not compacted, which has caused serious problems. While efforts have been made, and others planned to fix the floor problem, a bow was discovered in an outside wall.
The state's School Building Authority just finished a study on the bowed wall, saying its' stress-factor was 96%, not a good outcome.
"A total disaster could happen," said Propst, "For the safety of the students the repairs must be made before occupancy," of that section.
"We will have to close the multi-purpose room and a classroom when school starts this fall," saying he is hopeful the SBA will continue to emergency fund the repairs.
Serving food to students will be a problem during the closure of that section of the school.
"This is a real safety problem, which we will address," Propst said, with a plan already developed to correct the structural problems.
Earlier reports indicated Calhoun Schools experienced problems with one or more contractors on the 1978 construction.
Frank Tetrick, Director of Support Services, was recently dismissed by the school board, reportedly not related to problems with PHE.
Last night, Donnie Pitts, former Director of Support Services, was rehired by the board, one of 12 applicants to fill the position.
See related story PLEASANT HILL SCHOOL GETS ADDITIONAL $947,550 FUNDING - $2,250,000 Sewer And Structural Repairs Will Conclude In 2010