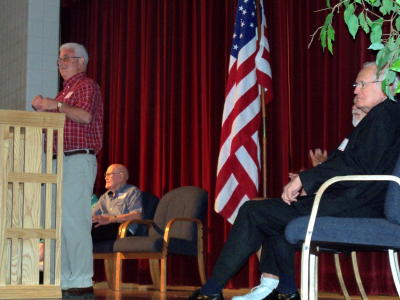 Superintendent Roger Propst welcomes
alumni, shown with class speakers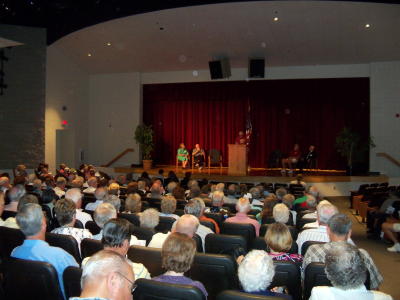 Over 300 alumni, family and
friends attended the annual event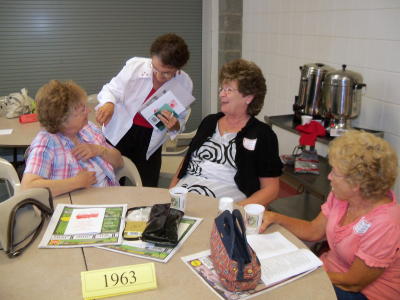 Superintendent Propst said organizers learned that
alumni "really want most of the time visiting," indicating
the formal program has continued to be shortened
Former Calhoun native and member of the Calhoun County High School Class of 1940, Melvin Arnold told those attending the annual alumni reunion at Mt. Zion this weekend, "Time is not sacred until it passes over you."
Over 300 former graduates of Calhoun's only high school returned to renew their relationships and recall their glory days of high school. Most of those attending graduated from the now abandoned stone cut building at Grantsville.
Calhoun superintendent of schools Roger Propst (1965) and alumni president Loyd Wright (1955) welcomed the alumni and their families to Calhoun Middle-High School, which replaced the aging structure about 11 years ago.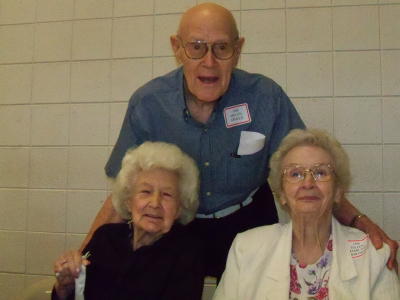 Early grads visit, Dora Shafer Starcher, 1937 (left) Eileen
Hamilton Whitman, 1936; Melvin Arnold, 1936 (standing)
Speaking for the 60th anniversary class of 1950 was Roscoe Wilson and the 50th anniversary class of 1960, was Carolyn Jones.
Following lunch, alumni spent most of the day visiting and attending a few class reunions on the side.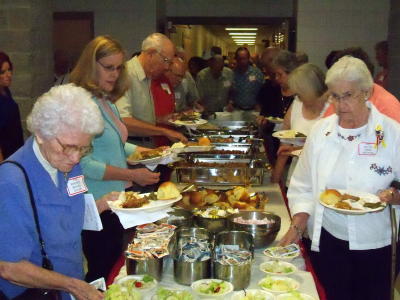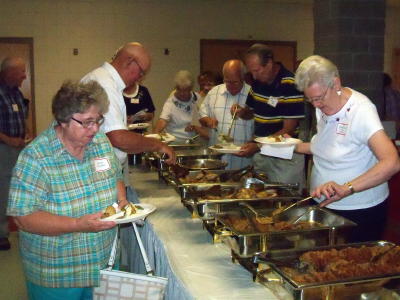 In Memory: Those Who Passed ...
Emily Wease Stevens Class of '43 d. 12/07/07
Genevieve Katherine Vannoy Davis Class of '39 d. 11/13/08
Don Gordon Class of '55 d. 2008
Ronald Joe Wilt Class of '61 d. 06/26/09
Edna Frederick Jarvis Class of '57 d. 07/08/09
Dorcas Ball Speer Class of '44 d. 07/13/09
Vearl Haynes Class of '58 d. 07/18/09
William Darrell Stump Class of '47 d. 07/20/09
Emma Gainer Wease Class of '48 d. 07/27/09
Roger A. Deel Class of '63 d. 08/05/09
Gladys Violet Vannoy Bone Class of '40 d. 08/07/09
Walter Kerby Class of '54 d. 08/28/09
Dallas Carpenter Class of '49 d. 09/08/09
Hilda Altizer Hall Class of '40 d. 09/15/09
Frances Herman Mowrey Class of '47 d. 09/22/09
Joel M. Rowh Class of '64 d. 09/25/09
Frances Parsons Knotts Class of '53 d. 09/26/09
Glenn C. Poling Class of '41 d. 10/02/09
Grace Howard Stalnaker Class of '42 d. 10/19/09
Leonard C. Powell Class of '73 d. 10/25/09
Gladys Siers Moss Class of '52 d. 10/27/09
Leota Kelley McClain Class of '43 d. 11/01/09
Sharon Cunningham Williams Class of '72 d. 11/04/09
Edward C. Knotts Class of '43 d. 11/13/09
Robert E. Lydick Class of '55 d. 11/14/09
Brian Keith Fluharty Class of '82 d. 11/19/09
Thomas Krugman Class of '79 d. 11/27/09
David B. Hathaway Class of '43 d. 11/28/09
Oleta Burrows Dye Class of '36 d. 12/24/09
Irene Allen Hathaway Class of '40 d. 12/24/09
Constance Anonsen Smith Class of '63 d. 12/24/09
Dawn Johnson Class of '55 d. 12/26/09
Kathryn W. Stout Class of '77 d. 01/15/10
Nelle Parsons Stump Class of '39 d. 02/05/10
Yvonna Richards Collins Class of'50 d. 02/27/10
Eileen Stevens Yoak Class of '33 d. 03/07/10
Ersel E. McCartney Class of '52 d. 03/15/10
Kenneth Mowrey Class of '72 d. 03/31/10
Harry Owen Minney Class of '47 d. 04/08/10
Betty Siers Miller Class of' 58 d. 04/16/10
Lurland Stevens Barr Starcher Class of '52 d. 05/13/10
James A. Law Class of '40 d. 05/28/10
Belford Roberts Class of '45 d. 06/01/10
Denzil H. Johnson Class of '50 d. 06/03/10
Irene Fox Bartlett Class of '40 d. 06/11/10