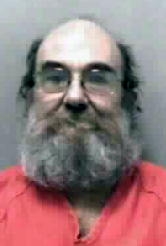 A Calhoun man was charged with violating the conditions of his home confinement yesterday and was taken into custody by the Calhoun Sheriffs Department.

William Anthony Denmark, 58, of Beech, is currently in Central Regional Jail, with officials processing the revocation of his bond.

Denmark has been charged with conspiracy to inflict bodily injury, and had been released on bond.

Officials reportedly discovered items in Denmark's house that caused the order to be issued.

Denmark had been on home confinement monitored by Roane County officials, with Denmark recently returning to his Calhoun farm for monitoring.

Officials told Spencer Newspapers earlier that Denmark had already jeopardized his home confinement status in Roane County, related to an incident there.

His charges, according to a criminal complaint, relate to his role in the shooting of Jesse's Run resident, Aaron Lloyd in April, 2006.

The complaint indicates Lloyd was shot by William A. Denmark's son Seth Denmark, 22, accompanied by David Beach.

The complaint says that "planning was carried out by the defendant [William A. Denmark], Seth Denmark and David Wayne Beach."

According to the charges, Beach, met with his friend, Seth Denmark, and William Denmark, at the Denmark home on Beech Road in Calhoun County when they planned to shoot Lloyd.

Seth Denmark and Beach allegedly walked to the Lloyd residence on Jesses Run where Denmark shot Lloyd in the leg, an injury from which he recovered.

A criminal complaint against Seth Denmark says Beach may have met a more serious fate about a month later. That's when officials believe he was shot in the head and buried in a grave he helped dig.

Seth Denmark, his father and mother have all been arrested in connection with the alleged incidents and a cover-up that followed.

Former Calhoun County prosecutor Shelley DeMarino told Judge David Nibert that Beach, 17 at the time, knew too much about the Denmark family.

"He'd been running his mouth about other criminal activity they'd been involved with," she told Nibert in Calhoun Circuit Court.

Seth Denmark is now charged with kidnapping for holding a witness at gunpoint. The warrant says he threatened to do the same thing to her and her child that he did to Beach, says the complaint.

Seth Denmark is being held in Central Regional Jail.

Denmark's mother, 56-year-old Jackie Denmark, is charged with aiding and abetting the kidnapping.

She was recently released on home confinement at her daughter's residence in Jackson County.