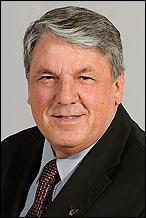 David Walker (D-Clay)
House of Delegates
WV Legislature-District 33
It's been awhile since I've had the opportunity to start up my interim column. Looking back at my legislative schedule, I can honestly say the job occupies a person's time but I look forward to the challenges it provides.
In the past months since we adjourned our Regular Session and the Extended Budget Session on March 20th, not only have we been attending our monthly interim meetings but also were called into a Special Session that ran from May 13th through the 19th.
Charged with reviewing measures designed to reform the state's public education system and possibly draw down $75 million in federal dollars, lawmakers agreed the comprehensive and complex bills could not be addressed in the limited time of the special session.
The intensity of issues we were facing were the result of West Virginia's attempt to receive funding from the federal Race To The Top (RTTT) program by meeting federal criteria.
One criterium called for the allowance of charter schools, which in essence are schools funded publicly but which do not have to adhere to all State Board of Education policies regarding teaching practices.
Another would require at least annual evaluations of teachers and other school service personnel.
One would have mandated certain salary supplements for teachers and principals employed in schools with a student population that is high poverty or high minority and for teachers teaching in a documented area of shortage in schools with a student population that is high poverty or high minority.
And another would have authorized monetary incentives for teachers and principals whose students meet goals for student growth during the previous school year. The bill would have authorized county boards to provide additional supplements.
Since neither the House nor the Senate could come to a shared agreement in those six days, we thought it best if we adjourned and went home to our districts to explore our constituents' opinions on any school system changes. Presently, a special committee appointed by the President of the Senate and the Speaker of the House of Delegates continues to work with representatives of the State Board of Education and teacher organizations to iron out the various concerns of all interested parties.
The Governor has scheduled a Second Special Session for July 19th to review the special committee's findings.
In the meantime, we have started up our annual interim meetings which occur three days a month throughout the remainder of the year. These meetings allow us to review, study and discuss issues which may be taken up in the 2011 Session. The membership of each committee includes Delegates, Senators and sometimes citizens who are selected for their expertise in certain fields.
My committee assignments for the 2010 Interim meetings include the Joint Committee on Education, Education Subcommittee B, PEIA, Seniors and Long Term Care and Veterans' Affairs.
During the month of May, our Education Subcommittee B reviewed our study topics. We will be be investigating ways to reduce school dropouts rates, improving the efficiency, focus and fairness of the system for holding school systems accountable for preparing students for the 21st Century economy, and studying the care and prevention of concussion injuries in sports regulated by Secondary Schools.
Our committee on PEIA, Seniors and Long Term Care heard from Marcus Canaday, the Director of the Office of Home and Community-Based Services Bureau for Medical Services. (I might add that during the First Extraordinary Session, we did pass a supplemental appropriation bill which added $5.5 million for AD Waivers for Title XIX Seniors. This home-based care for the aged and disabled diverts individuals from entering nursing facilities.)
We heard from the Adjutant General for the West Virginia National Guard during our May meeting of the Veterans Affairs Committee. There are around 40 units in the West Virginia National Guard stationed in 26 countries. About 170 members of the West Virginia Army National Guard's 115th Engineer Company returned home last month after serving a year in Iraq.
We were told that aside from the deployments overseas, the West Virginia National Guard wants to play a prominent role without leaving the state when West Virginians are in need of their help. There are currently 3,000 guardsmen working full time.
The Adjutant General also was happy to report for the 13th straight year, West Virginia is one of the top states in recruiting and retention.
It is my intention to keep you informed of all legislative activities as the year proceeds.
If you should have any questions or comments regarding any issues or bills before the Legislature, please feel free to contact me. To write me, my address is Delegate David Walker, State Capitol, Building 1, Room 230-E, Charleston, WV 25305 or call me at (304)340-3135. I encourage all my constituents to remain active and become part of the legislative process.