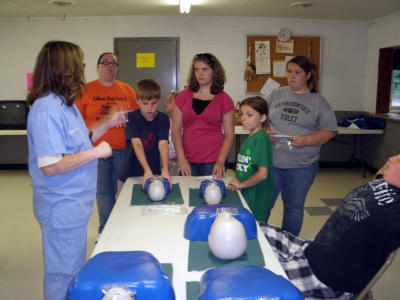 Submitted by Hannah Burris
Arnoldsburg Eagles Reporter
The Arnoldsburg Eagles 4-H club meeting was called to order by Holly Wilson on June 7th. Pledges were led by Dustin Deweese. Roll-call question was "What do you want to do for the summer?"
The minutes of the May meeting were read by Caitlin Roberts. Old business was a discussion about idea's for a club trip. New business was about 4-H Camp, Eagles that are attending camp are Holly Wilson, Addie Lancaster, Dylan Deweese, Dustin Deweese, and Hannah Burris.
The June 7 meeting was on CPR. Certified trainer Annette Webb demonstrated the proper procedures on the Heimlich Maneuver, adult and infant-child CPR.
Dylan Deweese, Dustin Deweese, Hannah Burris, Holly Wilson. Caitlin Roberts, Addie Lancaster, Lylah Smith, Crystal Brenneman, and Cheryl Roberts were all certified in CPR.
Thanks to Annette Webb for coming to our meeting. All Club members are excited for 4-H Camp and the summer. Natalie Allen could not be with us she is in our thoughts.