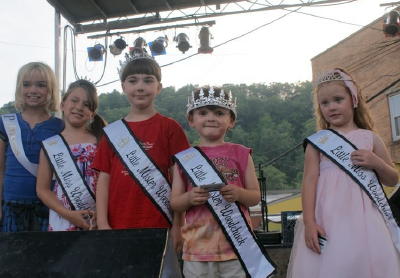 Pictured L-R: Erica Heiney, Marissa Taylor,
Austin Myers, Dillion Murphy, Brooklynn Swisher
(Photo courtesy of Paige Toney)
The Calhoun County Wood Festival sponsored the annual Little Mister and Little Miss Woodchuck contest for the 2010 Wood Festival.
Contestants were students in grades pre-school to 4th grade at Pleasant Hill and Arnoldsburg Elementary Schools.
Winners are based upon a penny-a-vote format. A donation from the proceeds will be made to each school's PTO.
Arnoldsburg Elementary, Little Miss Woodchuck is Brooklynn Swisher Little Mister Woodchuck is Dillion Murphy
Pleasant Hill Elementary, Little Miss Woodchuck is Marissa Taylor, Little Mister Woodchuck is Austin Myers, and Little Princess is Erica Heiney.