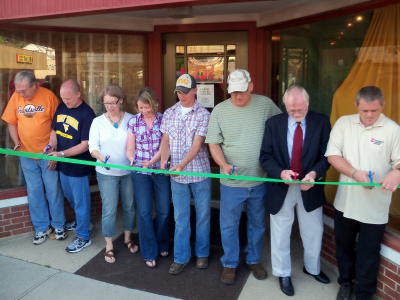 PEOPLE WHO MADE IT HAPPEN (L to R) Roger Jarvis,
Steve Whited, Terry Harris, Maricia Mlynek, Andy
Mlynek, Bill Gherke, Larry Whited, and Chad Barnes
The ribbon was cut Thursday evening at the county's new history center, a project long in the works which has happened with the help of lots of dedicated volunteers with the Calhoun Historical Society.
The center is currently featuring window displays in tribute of the Wood Festival with themes of Queen Flora and a woodshed with hand tools from years gone by.
Museum displays include the oil and gas industry, riverboats, the Civil War, and the Dr. James A. Dye collection.
The center will be open on Friday and Saturday, starting at 11:00 a.m.
Historical society members are encouraging the public to come and help support the Calhoun Historical Society and its "new" museum.