Robert F. Bonar, Calhoun County High School, Class of 1997, has spent several years compiling and editing information on the football program at Calhoun County High School.

Following the 2009 season, he decided to organize everything in a book, "A History of Calhoun Football, 1923-2009."

The books will be on sale this weekend at the Lion's Club booth and the Family History Center at the Wood Festival.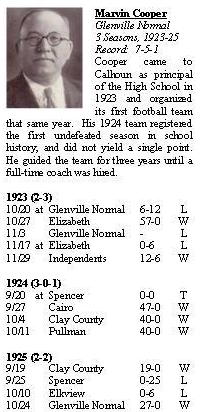 Bonar researched newspapers, yearbooks, team pictures, game reports, interviews, and the statistics amassed by Newton Nichols.
He visited high schools, the West Virginia State Archives, and libraries, and corresponded with individuals and colleges.
Photographs came from a variety of sources.
The book has over 100 pages and is organized in nine chapters, including a year-by-year listing of games (see left) the names and seasons of over 1,400 players, biographies and records of all coaches, information on all opponents, individual and team records, honors and awards, plus helmets and uniforms through the years, a history of the band, and cheers and yells.
There's something for everyone.
Delivery of the books is expected in early June. The cost is $15, plus $3 shipping and handling for books not picked up.
To order, contact: Robert F. Bonar, 123 Johnson Street, Grantsville, WV 26147 or phone 304-354-7507.
The book will be on sale Alumni Day, Saturday, July 3, at two locations. Author, Robert F. Bonar, will be at the Wayne Underwood Museum behind Calhoun Middle/High School starting at 9:00. The book will also be available at the Calhoun Historical Society's Family History Center in Grantsville.
PHOTOS OF HELMETS AND UNIFORMS THROUGH THE YEARS