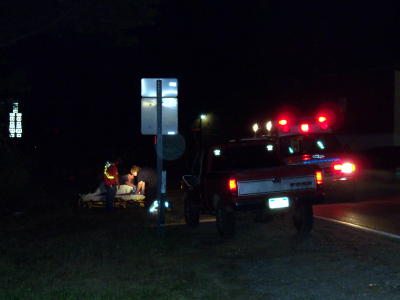 Emergency responders administer care to woman along roadway
Police and emergency services responded to the "Y" intersection, US 33-119/State Route 16 just before midnight Saturday to a 911 report of a woman being "shoved or thrown from a vehicle."
The woman was along the highway when Calhoun EMS and the Arnoldsburg VFD arrived, reportedly suffering from minor injuries.
Calhoun 911 received multiple calls on the incident.
The WV State Police and the Calhoun Sheriff's Department responded to the scene and later took into custody the male driver of the vehicle who left the scene.
Calhoun EMS transported the woman to Minnie Hamilton Health System, with officials saying the woman was uncooperative and requesting law enforcement to come to the hospital.
Police are responding to what appears to be a domestic dispute near Norman Ridge at 7:45 p.m. Sunday.
A call to 911 said a male subject reportedly broke a rear and front glass out of a vehicle, setting it on fire.
The vehicle was occupied by a female, a significant other.