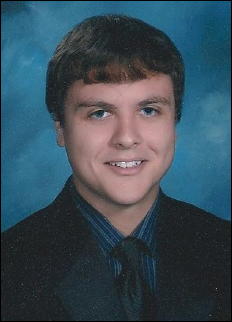 Valedictorian, Kayla Boggs and Salutatorian, Benjamin Sims
Photos courtesy of Calhoun High School
Calhoun County Schools has named Kayla Boggs, Valedictorian and Benjamin Sims, Salutatorian for the Class of 2010 at Calhoun County High School. They will be recognized during graduation exercises Friday at 7 p.m. at the school.
Kayla is the daughter of Henry and Brenda Sinnett of Big Bend. Her school activities, honors and awards include, National Honor Society, 3 years; Mu Alpha Theta, 3 years; National Society of High School Scholars, 2 years; 2009 WV Governor's Honors Academy; Honor Roll, 4 years; Yeager Scholarship recipient; Senior Class President; and Student Council President.
Her community activities and events include, Learn & Serve member for 3 years; "Read to Me" day at Pleasant Hill Elementary, 2009; Dr. Seuss Day at Arnoldsburg Elementary, 2009-2010; Volunteer at Minnie Hamilton Health System and Aging with Grace, 2009-2010; Spruce-Up Your School Day, 2008; and Clean Up Your School Day, 2010.
Kayla plans to attend Marshall University majoring in Cellular-Molecular Biology, and then attend Graduate School majoring in Genetics.
Benjamin is the son of Gregory and Angela Sims of Big Bend. His school activities, honors and awards include, Academic Team, 2007-2010; National Honor Society, 2007-2010; NHS Treasurer 2009-2010; Perfect Attendance, 2006-2009; Governor's Honor Academy; 30 Hours College Credit; and Know Your State Government Day.
His is a member of Hoy Chapel Church and plans to attend West Virginia University at Morgantown, majoring in Engineering.