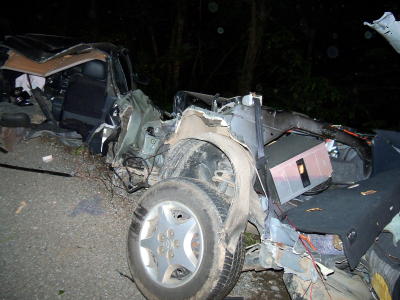 Photo shot from rear of vehicle which was ripped apart on Nicut Road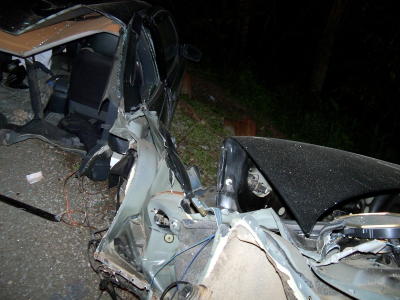 A small piece of car connects front and rear of vehicle
A Calhoun man was seriously injured Sunday night when his vehicle lost control on Nicut Road and struck steel I-beams used for road slips, ripping his vehicle apart and thrusting him to the roadway.
Derek Westfall, age about 27, was life-flighted to Charleston Area Medical Center following the 8:24 p.m. accident.
A motorist called 911 after discovering Westfall in the road, saying he was unconscious and unresponsive.
Calhoun EMS dispatched ambulances to the scene with the Upper West Fork VFD.
Firemen said the crash was the worst they had seen in years, with the vehicle being sheared in half.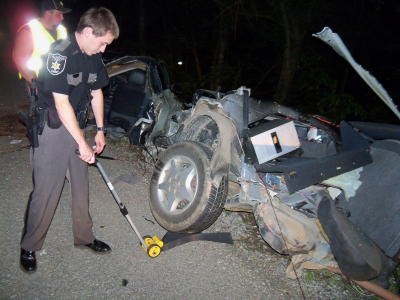 Deputy Jeff Starcher works on accident report
Deputy Sheriff Jeff Starcher is investigating the accident.
Westfall, who is married, is the son of Richard Westfall, a supervisor at Calhoun's DHHR office, and his mother, Betty, is a teacher at Calhoun Middle-High School.
The accident happened about 3 1/2 miles off State Route 16, near Orma.