By Casey Hill

A Joe Wilt Memorial Choir will perform at this year's Calhoun High School graduation.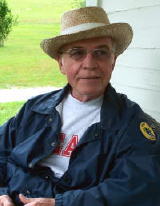 Wilt (pictured left) a long time music director at the old Calhoun High School and highly recognized musical director in Key West, Florida, died last year.
Persons who sang in the Calhoun choir or would like to sing in the group are invited to perform at the 2010 CHS graduation on May 28th at 7 p.m.
The group will perform the benediction, "The Lord Bless you and Keep You," with current choir members.
The song was standard fare at school events for many years.
There are plans to begin a Joe Wilt Memorial Choir to perform each year.
There will be a practice Wednesday, May 26th at 4:00 p.m. in the CHS gym.
The group will meet in the front of the high school at 6:15 p.m. on graduation night.
For more information please contact Casey Hill at 304-354-7503 or Terry Harris at 304-354-7263.